2023 Attendee Info
Registration
Am I registered?
All attendees should have received a registration email.
To confirm your registration, you can also go to duke.zoom.us and authenticate with Duke SSO, then visit the Zoom Event site. If you are registered, you should have the option to Join Lobby (and we recommend you do that so you can confirm your ticket is working.) If you are not registered, click Register to confirm your spot!
Need to cancel your registration?
Go to the Tech Expo Zoom Event page.
Click your Profile in the top right, then select Tickets > Orders > and click the "…" by TechExpo.
Select Cancel order.
I can't make it – can I get a copy of the presentations?
Session recordings will be made available on our website over the summer.
Online Event (Thursday, May 18)
How do I access the event?
You must have a Zoom account.

Duke Zoom Account users: when you are prompted to login to Zoom, look for the SSO icon.

If you don't see the Join link, you are likely not yet logged in with SSO. Go to duke.zoom.us first, authenticate first using your NetID. and then you should be able to Join the Lobby.

All others: use the appropriate methods for authenticating. For example, basic Zoom accounts enter the email address and password as prompted.

Confirm your Zoom client is up to date. You must be running the latest version to fully participate in our virtual event. Use the option Check for Updates under the profile picture in the Zoom client.
Each registrant has received a unique link to join our event Lobby. Use this link, and do not share it with anyone else. Doing so will put your ability to join the conference at risk.
Once I'm in the Zoom event, where do I go?
Lobby: Check this space for the conference chat, along with presenter session(s) and introductory videos. Live sessions will be streamed to the Lobby and can be watched there. For the full Zoom experience, including the ability to chat and see other participants, click Join. The Lobby also shows which sessions are coming up next and allows you to join them.
Sessions: Review a list of all sessions in the conference, including subject matter and presenters. You can bookmark sessions of interest and join live presentations.
Itinerary: If you have bookmarked any sessions of interest, these are listed here. You can join active sessions from here, as well.
Presenters: Learn about all of our excellent presenters here. If a speaker is actively giving a session, you can join from here.
Sponsors: Get details about our sponsors, and prepare to stop by their tables on Friday.
Videos: Watch videos from our TechExpo committee sponsors, along with the in-person event.
What's the difference between viewing and joining a session?
You can view sessions in the Lobby. This allows you to switch between active sessions without joining a full Zoom meeting. If you choose this option, be aware you are only a viewer and cannot contribute to the discussion.
When you join a session, you will be taken to a full Zoom meeting where you can see other participants and ask questions.
In-Person Event (Friday, May 19)
Where should I go?
The event is held rain or shine at Amenities Park, near DHTS at the Park: 21 Alexandria Way in Durham, NC 27709 (Google Maps).
Park in the available spaces off Alexandria Way. (Parking decks are available for overflow parking only.)
When you arrive, make your way toward the stage to our Check-in table.
Review this map of Amenities Park (also displayed below) for additional venue details.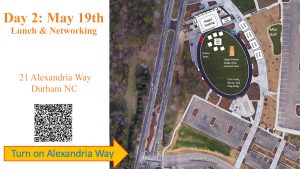 What should I bring?
We'll provide everything you need (e.g., badge, tickets) at the Check-in Table.
There will be plenty of food and drink, but feel free to bring your own (especially if you have specific needs or allergies). Alcohol is not permitted.
Bring lawn chairs, if you'd like.
There is some shade and covered seating, but sunscreen is never a bad idea.
What if it rains?
The event will take place rain or shine! There is plenty of covered space to keep us dry.
Which food vendors will be there?
Meal vouchers are included in your registration.
Thank you to the following vendors for serving us this year:
Where are the restrooms?
Restrooms are available in the Shattuck Labs building to the east (toward I-885, formerly NC147) of the stage.